The media and intellectuals' response to medical publications: the antidepressants' case
Annals of General Psychiatry
2013
12:11
Received: 11 July 2012
Accepted: 28 March 2013
Published: 12 April 2013
Abstract
During the last decade, there was a debate concerning the true efficacy of antidepressants. Several papers were published in scientific journals, but many articles were also published in the lay press and the internet both by medical scientists and academics from other disciplines or representatives of societies or initiatives. The current paper analyzes the articles authored by three representative opinion makers: one academic in medicine, one academic in philosophical studies, and a representative of an activists' group against the use of antidepressants. All three articles share similar gaps in knowledge and understanding of the scientific data and also are driven by an 'existential-like' ideology. In our opinion, these articles have misinterpreted the scientific data, and they as such may misinform or mislead the general public and policy makers, which could have a potential impact upon public health. It seems that this line of thought represents another aspect of the stigma attached to people suffering from mental illness.
Keywords
Antidepressants
Efficacy
Debate
Media
Lay persons
Introduction
Recently, a number of meta-analytic studies disputed the clinical usefulness of antidepressants by reporting that their effect size is small [
1
–
6
] and that there is a significant bias in the publication of antidepressant trials [
7
]. These conclusions attracted much attention both by scientists and by the general public (see list of sites below, Figure
1
). At the center of this debate, there was the meta-analysis by Kirsch et al. [
4
] which suggested that antidepressants fall well below criteria for clinical relevance and that efficacy reaches clinical relevance only in trials involving the most severely depressed patients. Kirsch went further and accused the Food and Drug Administration (FDA) as having an explicit decision to keep this information from the public and from prescribing physicians [
8
]. The Kirsch et al. data set [
4
] has been re-analyzed by two other groups [
9
,
10
], which independently reported results different to those reported by Kirsch et al. The interpretations also differed.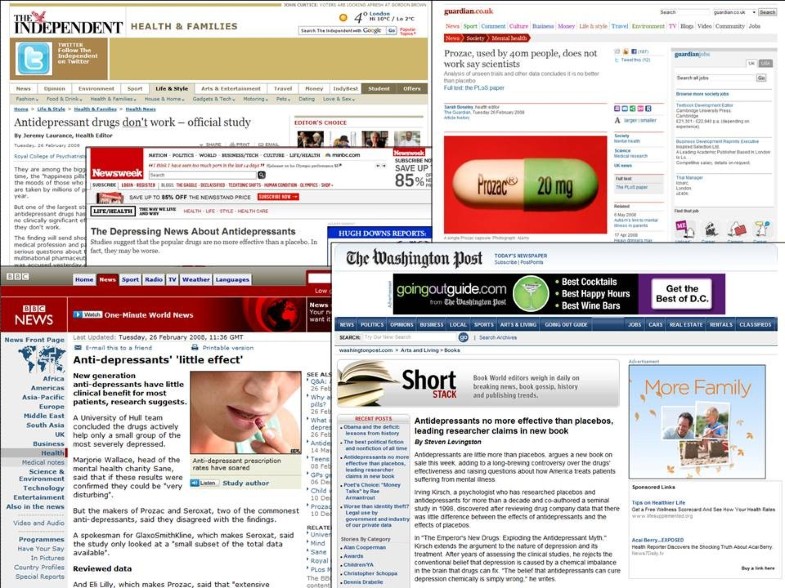 The list of sites of mass media which covered the antidepressants' debate soon after the Kirsch et al. 2008 publication:
Furthermore, by 'overstretching' the interpretation of the data, Kirsch also suggested that because they do not incur drug risks, alternative therapies (e.g., exercise and psychotherapy) may be a better treatment choice for depression [8] and went on to author a book under the title The Emperor's New Drugs: Exploding the Antidepressant Myth [11].
In this frame, it is indeed peculiar that nobody comments on the finding of another meta-analysis which suggests that selective serotonin reuptake inhibitors (SSRIs) differ from psychotherapy as much as they differ from placebo (0.28 vs. 0.32) [12].
Discussion
At the end of the day, the conclusion of all scientific data published so far suggests that antidepressants are effective and they treat depression; they do not make humanity happier. This is a key point that all the above-mentioned three articles miss. According to the most reserved, skeptical, and critical meta-analysis, antidepressants might not constitute the perfect silver bullet but are clearly superior to placebo, and their efficacy is superior to many established therapies of other specialties of medicine (e.g., cardiology and cardiosurgery) in terms of NNT [4, 20, 31]. They are also clearly superior to any psychotherapy when rigorous scientific methods are used for the comparison [12]. Apart from these meta-analyses, it is important to be cautious when interpreting the results of a meta-analytic study [32]. However, like any medication, their use needs to be cautious. Side effects, including the induction of the opposite pole in bipolar patients, even the induction of suicidality in specific populations, make necessary that antidepressants should be prescribed by trained physicians.
The status of psychiatry in medicine is highly complex. Even more complex is the way scientists outside mental health regard psychiatry. This seems to depend on each person's individual discipline and is probably influenced by ideological or religious aspects. Since psychiatry has limited exposure with publication of articles in general scientific journals, it is highly unlikely that the scientists' or even health professionals' opinion significantly differs from that of lay people, simply because they are not informed on the advances in the field of mental health.
A side effect of this limited exposure is that the debate on the modern face of psychiatry is essentially limited within psychiatry itself. In this debate, 'hard science' plays little role since the majority of psychiatrists and their training are oriented toward traditional psychosocial and 'talk therapies.' People outside psychiatry see that 'psychiatrists disagree,' and this is clearly reflected in the three articles reviewed here. The fact that it is essential as an argument even in the article by Marcia Angell reflects this limited exposure of psychiatry as a scientific discipline and part of medicine in highly reputable scientific and medical journals.
However, psychiatry is a field of medicine although, among medical specialties, psychiatry puts the greatest emphasis on psychosocial and personality determinants of the illness. When a patient comes to a psychiatrist with depression, he seeks alleviation of his suffering, and the physician is doing it to the best of his knowledge, mostly starting with adequate antidepressant treatment. This is also corresponding to the 'free-will' issue put forward by Menand, although in a different way. The patient can always choose not to seek help, although, based on a number of good information initiatives available, he should be aware that depression is a treatable disease.
The backbone of Marcia Angell's article is not supported by the data, not even Kirsch's work. The whole article is against psychiatry as a scientific medical field, in line with anti-psychiatric texts. It is similar to the article by Ann Blake Tracy, although it is more sophisticated in style. This latter article is based on the author's global impression, and it is poorly written. Menand is more balanced when dealing with the scientific reports, accepts that medication works at least in specific populations, but puts the issue in the frame of an 'ethical' and 'existential' dilemma, largely reflecting his view of human freedom and self-determination. He is somewhat embarrassed when facing the fact that although he does not really consider depression to be a health problem, still medication works, and he resolves it by suggesting a 'moral' maybe 'omnipotent' solution. It is a view more or less expected from an intellectual without expertise in medicine and psychiatry.
Overall, all articles show biased and incomplete approach of the issue. Still, they argue fiercely, and the authors show very much convinced on issues where experts struggle to interpret research data for years.
A number of arguments and lines of thought underlie all three articles. All stress that psychiatrists disagree, but in science, it has never been a matter of voting. They imply a 'moral' dilemma when using medication to alleviate mental symptoms. This is of course not new concerning the suffering of human beings. The dilemma of pain control in delivery was a hot issue some decades ago, as women should give birth in pain. In Genesis 3, it is written in words of the New International Translation: 'To the woman He said, "I will greatly increase your pains in childbearing; with pain you will give birth to children. Your desire will be for your husband, and he will rule over you."' Nowadays, women are not ruled by anybody and make their choices at the delivery room: no analgesia, epidural or general anesthesia, or alternative methods such as hypnosis or relaxation. The same applies for the care of the terminally ill patients.
They set aside that morality has nothing to do with scientific data; they utilize an ideological and culturally biased interpretation of scientific data in a relativistic post-modern approach. It seems that prominent scientists, like when they join political parties and ideologies, frequently load their articles with their scientific prestige, but not with their scientific knowledge.
Why is this happening? According to Menand, 'The critics who say that psychiatry is not really science are not anti-science themselves. On the contrary: they hold an exaggerated view of what science, certainly medical science, and especially the science of mental health, can be.' The authors of the current article strongly disagree. The kind of critique psychiatry faces is inappropriately negativistic and selective in which aspect of the data to pick. It seems ideologically and philosophically fueled and exploits what in the philosophy of science is obvious: it is easier to argue that something is not true than it is. This is a side effect of falsificationism; however, falsificationism uses critique to the benefit of progress, not as a self-sustained and self-propelled negativistic and rigid stance and way of viewing things. Only genetics and Darwinian theory are under similar ideological fire, maybe because, like psychiatry, both put a big question mark on the existential question of human free will and existence.
Indeed, the issue of free will is a hot topic in philosophy which strives to follow the advances in neuroscience. It is beyond the scope of the current article to discuss free will; however, it should be noted that a stream of thought suggests that 'unless our choices are ultimately uncaused they cannot be free' [33]. This concept makes no sense in science; when events have 'no cause,' they are random, and free will does not mean one throws dices all the time. Most 'philosophers' cannot understand or do not know at all that the human brain is not a Turing machine; it is a more complex computational system which does not follow the rules of informatics science the way we conceive them today (of course, there are some theoretical proposals like the 'quantum computers,' etc.). However, although unsound, these philosophical approaches unfortunately have an important consequence since they are radically and inherently hostile to the concept of mental health and disease and thus to psychiatry. To some extent, they might tolerate 'talk therapies,' but for psychopharmacology, this is impossible.
It is to be noted that none of the three articles or any newspaper or media say anything concerning the huge economical cost of alternative therapies (including most psychotherapies), which are culturally and philosophically accepted and are based on tradition; however, only a small minority of these techniques has some, but not complete, support by hard evidence (in sharp contrast to medication), and even then, their efficacy is lower than that of medication treatment [17, 18] and might not be better than placebo at all [12]. Also, no mentioning is made of the fact that general practitioners and not psychiatrists prescribe most antidepressants and treat most psychiatric patients. Whether they are adequately trained to do so or not, it is an ongoing debate; however, the blame for this should not be put on the discipline of psychiatry.
While authors argue whether depression is a medical problem and whether and how antidepressants work, they miss the fact that a number of conditions (e.g., myopia) do not fulfill their criteria for a medical disorder. It is interesting that similar criticism has been made to the use of correction glasses, and there are authors suggesting that they worsen short-sight problems in the long term [34]. This ideological and romantic view of health is not only embarrassing when facing cosmetic surgery, the use of viagra, or even preventive medicine aiming at prolonging life (is there anything more natural than getting older and die?), but this line of thought is also similar to suggesting that the use of X-ray examination increased the incidence of bone fractures or that the use of higher Tesla MRI equipment increased the incidence of vascular encephalopathy and cancer metastasis. In this frame, the demand posed (directly or indirectly) by Dr. Angell that for one to be considered as a medical condition ('disease') that it should include abnormal laboratory testing is misleading. After all, response to medication should be considered to be a strong biological marker for depression (however, the whole debate concerns the efficacy of these agents).
There is no better conclusion of the present article than what is impressively written by Menand: 'Science, particularly medical science, is not a skyscraper made of Lucite. It is a field strewn with black boxes. There have been many medical treatments that worked even though, for a long time, we didn't know why they worked—aspirin, for example. And drugs have often been used to carve out diseases. Malaria was "discovered" when it was learned that it responded to quinine. Someone was listening to quinine.'
As long as psychiatry is a neglected field in the medical literature, the gap will be filled by the lay media or the 'lay-like' articles of non-lay authors, with adverse consequences on public health.
Louis Menanda responds
Even though there are four of them, the authors manage to completely misinterpret what I wrote. My article was not anti-science, anti-psychiatry, or anti-psychopharmacology. On the contrary: it was a defense of psychiatry, including psychopharmacology, against most of its critics. The authors seem to take offense even at summaries of criticisms of psychiatry, which is what most of my article consists of. I was not endorsing the views that I tried to explain. I certainly don't endorse Kirsch's book, which seems to be the main target of the authors' animus. And I don't know where the authors got the idea that I think taking medication suppresses free will, since I specifically refuted that supposition. Free will and determinism may be, as the authors say, a 'hot topic,' but I have no interest in it.'
Surely the authors would agree that psychiatry is a field that has undergone unusually drastic and often highly publicized paradigm revisions in the last fifty years, accompanied by an enormous amount of criticism from within the field. A non-scientist might well feel confused, and might even wonder whether the present state of knowledge is due for an overhaul, as well. I was addressing that person. The authors often use the term 'ideological' to discredit arguments that they believe to be unscientific or anti-science. This is specious. Medicine, like everything else we do, is practiced within an intellectual context. Trying to understand such contexts is what English professors do.
Endnote
aLouis Menand: Correspondence: Department of English, Harvard University, 12 Quincy St, Cambridge, MA 02138, USA; Email: menand@fas.harvard.edu.
Authors' Affiliations
(1)
3rd Department of Psychiatry, School of Medicine, Aristotle University of Thessaloniki, Thessaloniki, Greece
(2)
Department of Psychiatry and Medical Psychology, Prague Psychiatric Center, Prague, Czech
(3)
Charles University, Prague, Czech Republic
(4)
Department of Psychiatry and Psychotherapy, Medical University of Vienna, Vienna, Austria
(5)
Institute of Psychiatry and Mental Health, Madrid, Spain
(6)
WHO Collaborating Centre for Research and Training in Mental Health and Health Research Institute, Instituto de Investigación Sanitaria San Carlos (IdISSC), Madrid, Spain
(7)
Center for Biomedical Research Network on Mental Health (CIBERSAM), Hospital Clínico San Carlos, Madrid, Spain
(8)
Department of Psychiatry, Faculty of Medicine, Universidad Complutense, Madrid, Spain
(9)
Department of Psychiatry, Ludwig Maximilians University, Munich, Germany
Copyright
© Fountoulakis et al.; licensee BioMed Central Ltd. 2013
This article is published under license to BioMed Central Ltd. This is an Open Access article distributed under the terms of the Creative Commons Attribution License (http://creativecommons.org/licenses/by/2.0), which permits unrestricted use, distribution, and reproduction in any medium, provided the original work is properly cited.