Suicide risk in schizophrenia: learning from the past to change the future
Annals of General Psychiatry
2007
6:10
Received: 09 December 2006
Accepted: 16 March 2007
Published: 16 March 2007
Abstract
Suicide is a major cause of death among patients with schizophrenia. Research indicates that at least 5–13% of schizophrenic patients die by suicide, and it is likely that the higher end of range is the most accurate estimate. There is almost total agreement that the schizophrenic patient who is more likely to commit suicide is young, male, white and never married, with good premorbid function, post-psychotic depression and a history of substance abuse and suicide attempts. Hopelessness, social isolation, hospitalization, deteriorating health after a high level of premorbid functioning, recent loss or rejection, limited external support, and family stress or instability are risk factors for suicide in patients with schizophrenia. Suicidal schizophrenics usually fear further mental deterioration, and they experience either excessive treatment dependence or loss of faith in treatment. Awareness of illness has been reported as a major issue among suicidal schizophrenic patients, yet some researchers argue that insight into the illness does not increase suicide risk. Protective factors play also an important role in assessing suicide risk and should also be carefully evaluated. The neurobiological perspective offers a new approach for understanding self-destructive behavior among patients with schizophrenia and may improve the accuracy of screening schizophrenics for suicide. Although, there is general consensus on the risk factors, accurate knowledge as well as early recognition of patients at risk is still lacking in everyday clinical practice. Better knowledge may help clinicians and caretakers to implement preventive measures.
This review paper is the results of a joint effort between researchers in the field of suicide in schizophrenia. Each expert provided a brief essay on one specific aspect of the problem. This is the first attempt to present a consensus report as well as the development of a set of guidelines for reducing suicide risk among schizophenia patients.
Keywords
SchizophreniaClozapineSuicidal IdeationSuicidal BehaviorNegative Symptom
I. Background
Despite great efforts, suicide rates among schizophrenic patients remain alarmingly high. A comprehensive analysis recently appeared [1], and a number of opinion leaders have been involved in the develpment of books, papers and conferences to understand and prevent suicidal behavior in patients suffering from schizophrenia [1]. This paper is one such effort. It presents a review of the many aspects of suicidal behavior in schizophrenia and attempts to develop and share guidelines for the prevention of suicide in schizophrenics.
In 1977, Miles [2] reviewed 34 studies of suicide among schizophrenics and estimated that 10% of schizophrenic patients kill themselves. Follow-up studies have estimated that 10–13% of individuals with schizophrenia die by suicide, which is the main cause of death among these patients [3]. However, a recent meta-analysis estimated that 4.9% of schizophrenics commit suicide during their lifetime [4]. This percentage surprised many researchers as it was lower than previously thought. Regardless, it is still an unacceptably high incidence. Inskip, et al. [5] performed a meta-analysis on suicide among patients with affective disorder, alcoholism and schizophrenia and estimated that the lifetime risk of suicide was 6% for affective disorder, 7% for alcohol dependence and 4% for schizophrenia, an estimate which is consistent with Palmer's estimate. They concluded, therefore, that the lifetime suicide risk figure of 10% or more appears to be too high, although Meltzer [6] disagrees. Following an index suicide attempt, mortality from suicide in schizophrenia patients may be as high as 1% per year for the next five years [7, 8]. Pompili, et al. [9] reviewed the literature on suicide among inpatients with schizophrenia and found that the suicide rate in cohorts of schizophrenic patients who were followed-up after the first hospitalization for periods ranging from 1 to 26 years was 6.8%.
Harris and Barraclough [10] included 28 studies in their meta-analysis and found that the risk of suicide among patients diagnosed with schizophrenia exceeded that in the general population more than eight fold [SMR = 8.45, CI = 7.98–8.95]. Brown [11] found that schizophrenia was associated with excess death from both natural causes (e.g., respiratory diseases) and unnatural causes (accidents, suicide, and homicide). Suicide accounted for 12% of all deaths among schizophrenia patients and about 28% of all excess deaths. According to Brown, the excess mortality was highest in first episode or early illness phase patients, indicating a high rate of suicide early in the illness. Danish studies that assessed standard mortality ratios (SMR) in successive national cohorts suggest that the SMR may be rising in first-episode schizophrenia in Denmark [12] and falling in chronic schizophrenia [13]. At the same time, other data indicate that suicide risk may be elevated across the entire course of schizophrenia. A recent examination of the suicides of all patients with schizophrenia in Finland over a 12-month period found that fully one-third of the schizophrenic suicides were over the age of 45 [14]. Despite great efforts, both on the side of drug treatment and psychosocial strategies, the number of suicides among schizophrenic patients has remained unchanged [15], although Nordentoft et al. [16] have shown that suicide among Danish patients with schizophrenia has fallen, paralleling the reduction of suicide in the general population.
Suicide attempts, which often result in death from suicide at a later time, are common among patients with schizophrenia; about 20–40% of these patients do make suicide attempts [17–19].
Many factors associated with suicide in schizophrenia have been identified, but attempts to identify high-risk patients have so far produced too many false positive results to be clinically useful [3]. Yet, identification of risk factors is a major tactic for predicting and preventing suicide. This review is based on systematic search of the international literature as well as on the experience of scholars who are dedicated researchers in the field. Opinion leaders in this field agreed to provide a summary of the state of the art for specific aspects of the problem. This paper therefore represents the first attempt to combine the efforts of researchers into suicide in schizophrenia in order to improve the understanding of the problem.
II. Materials and methods
We conducted careful MedLine, Excerpta Medica, and PsycLit searches to identify papers and book chapters in English during the period 1966–2006. We also performed Index Medicus and Excerpta Medica searches prior to 1966. Search terms were "suicid*" (which comprises suicide, suicidal, suicidality, and other suicide-related terms), "parasuicid*," "schizophren*," "inpatient or in-patient", and "outpatient". Each term was also cross-referenced with the others using the MeSH method (Medical Subjects Headings). Using the same databases and methods, we also crossed-referenced the above-mentioned terms with key words such as "neurocognition" or "neurocognitive," "neuroleptics or antipsychotics" (all terms belonging to the neuroleptics or to the antipsychotics categories were checked).
In this way, the entire literature on suicide in schizophrenia was carefully reviewed. By reviewing selected articles we identified some specific fields of interest. Sources of information also included original epidemiological research by the authors as well as classifications and data from World Health Organization. The authors agreed on a number of key topics relevant to the aim of this paper.
III. Results
1. Risk factors
There is almost total agreement that the schizophrenic patient who is more likely to commit suicide is young, male, white, and never married, with good premorbid function, post-psychotic depression and a history of substance abuse and suicide attempts. Hopelessness, social isolation, hospitalization, deteriorating health with a high level of premorbid functioning, recent loss or rejection, limited external support, and family stress or instability are important risk factors in schizophrenic individuals who commit suicide. These patients usually fear further mental deterioration, and they show either excessive treatment dependence or loss of faith in treatment. Awareness of the illness has been reported as a major risk factor among schizophrenic patients who at risk of suicide. Protective factors also play an important role for assessing suicide risk and, therefore, should be carefully evaluated. Although there is a general consensus on these factors, proper knowledge and, therefore, early recognition of patients at risk is still lacking in everyday clinical practice.
Fenton et al. [
20
] and Fenton [
21
] described the high risk patient as a young male, with a history of good adolescent functioning and high aspirations, late age of first hospitalization, higher IQ, with a paranoid or non-deficit form of schizophrenia, who retains the capacity for abstract thinking and who may be painfully aware of the impact of a deteriorating illness on his aspirations and life trajectory. Risk factors for schizophrenia are summarized in Figure
1
and Table
1
.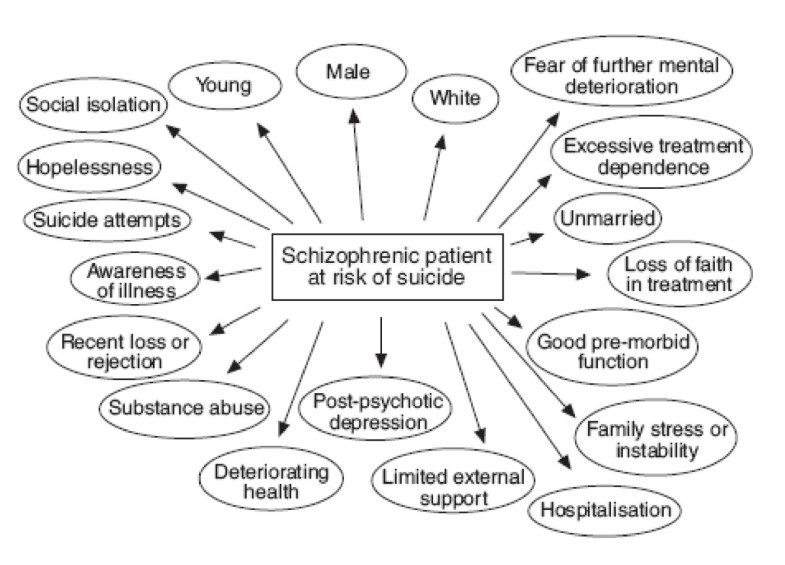 Table 1
Risk factors for suicide in schizophrenic outpatients and inpatients (modified from [9])
White, young, male (often under 30 years)
Unmarried
High premorbid expectations
Gradual onset of illness
Social isolation
Fear of further mental deterioration
Excessive treatment dependency
Loss of faith in treatment
Family stress or instability
Limited external support
Recent loss or rejection
Hopelessness
Deteriorating health
Paranoid schizophrenia
Substance abuse
Deliberate self-harm
Unemployement
Chronicity of illness with numerous exacerbation
Family history of suicide
Pre-admission and intra-admission suicidal attempts
Agitation and impulsivity
Fluctuating suicidal ideation
Extrapiramidal symptoms caused by medications
Prescription of a greater number of neuroleptic and antidepressants
Increased length of stay, increased number of ward changes, discharge planning and period following discharge
Period of approved leave
Apparent improvement
Past and present history of depression
Frequent relapses and rehospitalization
Longer hospitalization periods than other psychiatric inpatients
Negative attitudes towards medication and reduced compliance with therapy
Living alone before the past admission
Charged feelings about their illness and hospital admission
Early signs of a disturbed psychosocial adjustment
Dependence and incapability of working
Difficult relationship with staff and difficult acclimation in ward environment
Hospitalization close to crucial sites (big roads, railway stations, rivers, etc).
Positive symptoms are generally less often included among risk factors for suicide in schizophrenia. However, a number of studies have found that the active and exacerbated phase of the illness and the presence of psychotic symptoms [14, 22–24], as well as paranoid delusions and thought disorder [25, 26], are associated with a high risk of suicide. Patients with the paranoid subtype of schizophrenia are also more likely to commit suicide [27, 20]. Suicides as a result of command hallucinations, although rare, have been reported in the literature [28]. Kelly, et al [29] reported that a large proportion of their schizophrenic patients who committed suicide had poor control of thoughts or thought insertion, loose associations and flight of ideas as compared to those who died by other means of death.
A recent systematic review of risk factors for schizophrenia and suicide [30] identified 29 relevant studies and 7 robust risk factors including previous depressive disorder (OR = 3.03, 95% CI = 2.06–4.46), previous suicide attempts (OR = 4.09, 95%CI = 2.79–6.01), drug misuse (OR = 3.21, 95%CI = 1.99–5.17), agitation or motor restlessness (OR = 2.61, 95%CI = 1.54–4.41), fear of mental disintegration (OR = 12.1, 95%CI = 1.89–81.3), poor treatment adherence (OR = 3.75, 95%CI = 2.20–6.37), and recent loss (OR = 4.03, 95%CI = 1.37–11.8). A reduced risk of suicide was associated with hallucinations (OR = 0.50, 95%CI = 0.35–0.71. The authors argued that command hallucinations were not an independent risk factor, but they increased the risk in those already predisposed to suicide. Overall, suicide was less associated with the core symptoms of psychosis and more with affective symptoms, agitation, and awareness that the illness was affecting mental function.
The neurobiological perspective offers a new approach for understadinding self-destructive behavior among patients with schizophrenia and provides a basis for screening programs other than using the risk factors that are usually part of the clinical assessment. Low concentrations of the serotonin metabolite 5-hydroxyindoleacetic acid (5-HIAA) in the cerebrospinal fluid (CSF) are associated with suicidal behavior in patients with depressive illness and with schizophrenia. In a prospective study, Cooper et al. [31] measured 5-HIAA in the CSF taken from 30 schizophrenic patients in a drug-free state and followed these patients for 11 years. Ten patients made suicide attempts during the follow-up period. The suicide attempters had significantly lower concentrations of CSF 5-HIAA at initial evaluation than the non-attempters. These findings provided evidence for an association between serotonergic function and suicide and suggested a role in schizophrenia for drugs with serotonergic effects. Hormones known to be under serotonergic control, such as prolactin (PRL), can be measured in peripheral blood after stimulation or inhibition of the serotonergic (5-HT) receptors. Fenfluramine (FEN) is a widely used serotonin probe. In humans, D-fenfluramine (D-FEN), given orally, results in an increase in plasma PRL level, which is considered to be a higly specific test of serotonergic function [32]. It has been demonstrated that a blunted PRL secretion in response to D-FEN is associated with suicidal behavior in schizophrenic patients [33]. This is an important tool since this technique gives a specific indication of serotonergic function, and it can be combined with new neuroimaging paradigms such as PET and SPECT, providing images of seronergic function in vivo [34–37].
Plocka-Lewandowska et al. [37] found an association between results of the dexamethasone suppression test (DST) and suicide attempts in schizophrenic patients, suggesting a possible association between a hyperactive hypothalamo-pituitary-adrenal (HPA) axis and suicidal behavior in schizophrenic patients. Jones et al. [39] found that nonsuppression in the DST was associated with suicidal behavior in a sample of schizophrenic patients, and non-suppression of the DST differentiated suicide attempters from non-attempters. Reports of an association between both REM sleep abnormalities and the results of the DST and suicidal behavior in schizophrenia have been reported [38, 39]. Keshavan et al. [38] found that those schizophrenic patients who exhibited suicidal behavior had increased overall REM activity and REM time. Lewis et al. [40] contradicted these findings and reported that, in their sample of schizophrenic patients, total REM sleep time was associated with suicidal behavior. These authors suggested that, since serotonergic functions act to suppress REM sleep, reduced serotonergic function in schizophrenia could explain the association between suicidal behavior and REM time/activity observed by other authors. Hinse-Selch et al. [41] investigated the effects of clozapine on sleep in a sample of schizophrenic patients and found a significant clozapine-induced increased in non-REM sleep in patients who do not experience clozapine-induced fever; while the amounts of stage 4 and slow-wave sleep decreased significantly. These findings might explane the anti-suicidal role of clozapine since increasing REM sleep has been correlated with increased suicide risk.
2. Prevention and treatment of suicide in schizophrenia
a. Pharmacotherapy of Suicide in Schizophrenia: The Clozapine Indication
There is little evidence that the typical neuroleptic drugs, with or without antidepressants, as well as the atypical antipsychotic drugs other than clozapine, have an effect on fatal or non-fatal suicidal behavior in patients with schizophrenia [222, 223]. However, there is considerable data that indicates that clozapine does reduce the risk of suicide. Clozapine was first reported to reduce the rate of suicidality in 88 patients with schizophrenia in a mirror-image study [224]. The percentage of patients with no suicidality increased from 53% at baseline to 88% during treatment with clozapine. There was an 86% decrease in suicide attempts. Nearly identical results were obtained in another mirror-image study in hospitalized patients [225].
An epidemiologic study of mortality and morbidity in current and former clozapine users based upon the US Clozaril® National Registry reported that mortality from suicide was markedly decreased in current clozapine users in comparison with past users [226]. American and English clozapine registry data revealed a reduced risk of suicide for patients treated with clozapine compared to the general population of patients with schizophrenia [227, 228].
However, there are limitations in these studies that limit the confidence that the findings reach the highest standards of evidence-based medicine, such as no randomization of the patients in the treatment groups and the use of retrospective, broad inclusion criteria. These issues were addressed in the International Suicide Prevention Trial (InterSePT), a randomized, two year, open-label trial with blind ratings, and determination of whether potential endpoints met criteria for a suicide attempt or a hospitalization to prevent suicide by a blind, independent, expert Suicide Monitoring Board (SMB; Meltzer et al. [61, 229]. It included 980 patients with schizophrenia or schizoaffective disorder who were at high risk for a subsequent suicide attempt, based primarily on having made at least one suicide attempt in the three years prior to study entry or on being currently suicidal. The primary outcome measure was either time to a suicide attempt (including death by suicide) or hospitalization to prevent suicide. A significant 24% difference in the hazard ratio for this endpoint in favor of clozapine was found. The number of patients needed to be treated with clozapine in order to reduce the risk of one suicide event was 13. Clozapine was superior to olanzapine in patients with schizophrenia or schizoaffective disorder, in neuroleptic-resistant as well as neuroleptic responsive patients, and in both males and females. The two drugs did not differ in overall efficacy in reducing total psychopathology, positive and negative symptoms, or depression. Thus, the difference between the impact of the drugs on suicidality was not secondary to other efficacy differences, confirming the view of suicide as a separate dimension of the schizophrenia syndrome. As a result of this study, the Food and Drug Administration of the United States approved an indication for clozapine to reduce the risk of suicide in schizophrenia. Hennen and Baldessarini [230] recently completed a meta-analysis of available data on the issue and concluded there was a substantially lower overall risk of suicidal behavors and completed suicides for clozapine. Thus, there is strong evidence to suggest that, for patients with schizophrenia or schizoaffective disorder who have made and survived a serious suicide attempt, or who can be judged to be at very high risk for such an attempt based on careful assessment, clozapine treatment should be instituted and maintained.
b. Non-Pharmacological Treatment of Suicide in Schizophrenia
Draket al. [201] noted that there is a need for empathic support in reducing suicide risk. These authors suggested that clinicians should acknowledge the patient's despair, discuss losses and daily difficulties, and help to establish new and accessible goals. Social isolation and work impairment have been reported as risk factors for suicide in individuals with schizophrenia [27, 53, 231]. Individuals with good premorbid functioning are those more at risk of suicide. Interventions such as social skills training, vocational rehabilitation and supportive employment are therefore very important in the prevention of suicide in schizophrenic patients. Broadly speaking, these kinds of therapies focus on working out daily problems rather than achieving psychological insight. It has become increasingly clear that supportive, reality-orientated therapies are generally of great value in the treatment of patients with schizophrenia. In particular, supportive psychotherapy aims at offering the patient the opportunity to meet with the therapist and discuss the difficulties encountered in daily activities. Patients are encouraged to discuss concerns about medications and side-effects as well as issues such as social isolation, money and stigma. The therapist plays an active role as he gives suggestions and shares good and bad periods empathically. The nature of these treatments and their availability vary greatly from place to place. Psychosocial approaches have however limited value for acutely psychotic patients.
Mueser and Berenbaum [232] reviewed controlled trials of psychotherapy and concluded that reality-orientated psychotherapy is superior to a dynamic, insight-orientated approach. Nevertheless, exploratory psychotherapy may have some benefits as it gives patients who have achieved stable remission the opportunity to understand inner conflicts and discuss, within a solid therapeutic alliance, suicidal thoughts or suicidal behavior. Patients learn to dealuse symbolism and thought rather than action (suicide) [233, 234]. However, any psychotherapy technique with schizophrenic patients requires certain alteration and modifications of the standard approach [235–237]. An approach elaborated by Hogarty et al. [238, 239] is Personal Therapy, which includes three levels of treatment with defined criteria for progression from basic to more challenging levels. Treatment begins from early months after discharge, which aims at clinical stabilization and therapeutic joining, and moves in later phases to promoting introspection and an understanding of the relationship between stressors and maladaptive responses. An intermediate phase promotes skills remediation, relaxation training, role-playing and psychoeducation. There is evidence to suggest that the combination of psychosocial and pharmacological treatments increases compliance and helps to achieve a better outcome [240].
Cotton et al. [53] stressed the importance of psychotherapy with schizophrenic patients who are at risk of suicide and noted the need to appreciate their hopeless awareness of the chronic illness. According to Westermeyer et al [64], the surviving schizophrenic individual may be the type of patient who is able to adjust to life as a chronic schizophrenic or as a moderately and episodically impaired schizophrenic, and thus may be less likely to commit suicide.
Increased insight may parallel increased suicidality, but this is not per se a reason to try to decrease insight in patients with schizophrenia. In fact, insight is also positively related to compliance with treatment, both medication and psychotherapy, which both can help to reduce suicidality. Gradual increases in insight secondary to treatment were also related to decreased suicidality in one study. Dramatic increases in insight should, however, be avoided and should be managed within an appropriate therapeutic relationship. Structured psychotherapies might add to the benefits of successful drug treatment of schizophrenic patients. Thus, insight may have a bidirectional impact on suicidality. It might increase it through increased hopelessness and despair [241], and these feelings may arise because the patient realizes that he or she with have to depend on lifelong medication and/or understands the social consequences of having schizophrenia. On the other hand, gradual gains in insight brought about by successful drug treatment and/or psychotherapy may decrease suicidality and may further contribute to compliance, which is a factor that protects the patients from relapses and recurrences. In turn, the benefit from adhering to treatment may make the patient's outlook on his or her illness more positive, thereby reducing suicidality. The best way to achieve these goals may be to combine drug treatment with psychotherapy, a method that has proved to be superior to each type of treatment alone in other types of mental disorders. Controlled data in this respect, however, are lacking [82].
c. Changes in suicide rates
The suicide rate expresses a balance between protective and risk factors. During the last century, several measures might have influenced the suicide rate. The introduction of chlorpromazine in the 1950s made it possible to treat the psychotic symptoms of schizophrenia but, in the years after the introduction of chlorpromazine, the suicide rate actually increased. This might have resulted from increased patient insight into the illness. The patients were not racked with hallucinations or delusions, but they were still not capable of working or living without help from the community [242].
Deinstitutionalization began in the 1960s, and the number of hospital beds decreased during the following 40 years. However, the association between these changes and the suicide rate is not clear. The intent of deinstitutionalization was to improve the quality of life for patients, but it is a very difficult and demanding challenge for the society to treat patients with schizophrenia in their homes. It is not accomplished simply by closing beds. The influence of deinstitutionalization on the suicide rate is difficult to interpret because there were conflicting results [186, 243, 244]. The number of beds also produced conflicting results because many patients were actually not discharged to their homes but to other institutions. Thus, a trans-institutionalization occurred in many cases.
In the 1990s, the atypical antipsychotics were introduced and it seems that these drugs might have some anti-suicidal properties, especially clozapine [230, 245]. This might be to due their lesser propensity to cause extra pyramidal side-effects (EPS). (There is some evidence for a relationship between suicidality and EPS [95].
Another factor influencing the suicide rate could be the introduction of the selective serotonin reuptake inhibitors (SSRI) in the 1980s because they are less toxic in overdose and because it now became easier to treat depression in patients with schizophrenia. Depression in schizophrenia is very common and is associated with suicidality [8, 246].
According to the WHO, the general worldwide suicide rate has increased the last 50 years. The figures for suicide in schizophrenia are not present for many countries, but in Denmark and Norway the suicide rate in schizophrenia has been decreasing since 1990 (Gurli Perto, Danish Central Psychiatric Research Register, personal communication 2005 and Statistics Norway), paralleling canges in the general suicide rate.
IV. Conclusions: Preventive Measures and Goals for the Future
The clinical implications of this review are that prevention is likely to result from active treatment of affective symptoms and syndromes, improving adherence to medications, and maintaining special vigilance in patients with risk factors [30]. Clinical practice guidelines have identified a number of evidence-based treatments related to reducing suicidality in schizophrenia [220].
Difficulties in assessing suicidal risk in schizophrenia are related to the phenomenon of suicide per se, to problems associated with the treatment system or treatment practices, and to the personal psychological issues of the workers. Suicidal acts among people with schizophrenia were reported as being often so impulsive and difficult to predict that the traditional risk scales and interviews were of limited value in a clinical assessment [247]. However, schizophrenics do communicate their potential for suicide [248]. The American Psychiatric Association's clinical practice guidelines for assessment and treatment of patients with suicidal behaviors have provided an outline and clinical details for assessing individual patients [220].
An important issue for further investigate and understand suicide in schizophrenia is family history of suicide. Such topic was investigated in several studies and results were conflicting. In a metaanalysis, Hawton[30]found that family history of suicide among patients with schizophrenia was associated with OR = 1.82, (95 % CI = 0.56–5.94), thus a non-significant finding. Roy [249] inestigated 243 patients with a family history of suicide who were compared with 5,602 patients with no family history of suicide. A family history of suicide was found to significantly increase the risk for an attempt at suicide in patients with a wide variety of diagnoses: schizophrenia, unipolar and bipolar affective disorders, depressive neurosis, and personality disorders.
The data linking positive and negative symptoms to later suicidal activity suggest a diagnosis-specific model for some risk factors. Positive symptoms may be suicide risk factors for some diagnostic groups and negative symptoms for other diagnostic groups, while poor functioning may be a general diagnoistic-free suicide risk factor.
Mann et al. [250] reviewed the literature and identified a number of strategies that are effective in the prevention of suicide such as education and awareness programs for the general public, primary care providers and other gatekeepers, screening for individuals at high risk, and providing treatment using pharmacotherapy and psychotherapy. In particular, the prevention of suicide in schizophrenia should include providing proper information for the family members of the patient in the hope of reducing their hostility toward the patient. In addition, continuity of care after suicide attempts, restricting access to lethal methods and media reporting guidelines are important strategies to prevent suicide. Since it is such a strong predictor of future suicide, preventing and reducing attempted suicide in schizophrenia may have a positive long-term impact.
Pompili et al. [251, 252] reviewed the literature that dealt with the nursing of schizophrenic patients who are at risk of suicide These authors outlined key problems encountered in the nursing of these individuals, such as the unpredictability of suicide due to their fluctuating suicidal ideation, the staff's "countertransference" reactions to these patients, and the apparent improvement that precedes suicides. Nursing a schizophrenic patient who is at risk of suicide involves the establishment of a very unique relationship. Furthermore, the physicians' role in the prediction, prevention and management of suicide risk among schizophrenic patients should not be underestimated [253, 254]. Family members are stigmatized for dealing with schizophrenia. This psychiatric disorder often results in impairment of daily activities, relapses and chronicity. Family members are viewed with suspicion as they cope with their sick relative, and they may be subjected to fewer social activities and reduced job opportunities. The family's difficulties and perceived stigmatization have been reported as possible contributing factors to the suicide of schizophrenic patients [255]. Finally, treatment professionals, as well as family members and other bereaved survivers of suicide, need encouragement to grieve and express their feelings about the suicide victim.
Pompili et al. [82] have recently stressed the need to implement prevention programs for suicide among schizophrenic patients. These authors focused on primary, secondary and tertiary prevention. Primary prevention represents the search for the prevention and the elimination of risk factors. These factors include social isolation, substance abuse, depression, hopelessness and disappointment for lost expectations for the future. Insight into the illness should be monitored very carefully as it has become apparent that the awareness of one's illness leads to discouragement and increased suicide risk. Appropriate pharmacotherapy and psychotherapy should prevent the emergence of risk factors for suicide and the reduction of those factors already detected in the patient. Patients should always be asked about their intention to commit suicide. There are no contraindications to the direct investigation of suicidality in schizophrenic patients. They are instead relieved by an explicit investigation as they have the opportunity to share their inner feelings [256].
Secondary prevention aims to check the phenomena in those subjects who have already developed risk factors for suicide. State-dependent risk factors are those that can potentially be modified (such as depression, substance abuse and hopelessness), while trait-dependent risk factors are unchangeable (such as gender, age and premorbid functioning). No doubt, a prompt recognition of individuals who are at risk is a key element in the prevention of suicide. Screening procedures taking into account suicidal indicators should be implemented. Patients who are depressed, substance abusers and hopeless should be monitored carefully. Those who have experienced multiple hospitalizations and previously threatened or attempted suicide should be treated with adequate procedures, such as programs of aftercare and psychosocial intervention.
Tertiary prevention is addressed to those individuals who have attempted suicide or have been suicidal in the past. Destigmatisation should be addressed to mental illness as well as suicide. Increasing the stigma associated with having suicidal feelings will increase the suicide rate. Interventions among families, mental health professionals and church activists aimed at decreasing the stigma associated with mental illness and suicide may contribute to the reduction of deaths by suicide. Pharmacological interventions are no doubt of paramount importance, but psychosocial interventions and psychoatherapy also play a central role.
This review has several limitations. It does not present mata-analytic results, and the authors adopted a narrative approach in order to summarise the information regarding suicide in schizophrenia. However, contributions were provided by scholars with an international reputation in this field. For this reason, this review differs from previous reviews and represents an original consensus conference approach from many authors who provided, on the basis of their expertise, a brief essay on specific aspects of the problem. References selected for this study may not include all of the works dedicated to the topic. Other key works may be available and may provide further understanding of the topic. Clearly, more joint efforts of this kind are needed to develop sound, shared guidelines for the prevention of suicide among individuals affected by schizophrenia.
Declarations
Acknowledgements
The authors are grateful to Alberto Forte, M.D. for helpful suggestions during the preparation of the manuscript. The authors also wish to thank Juliana Fortes Lindau, M.D. and Piera Maria Galeandro, Psy.D.
Authors' Affiliations
(1)
Department of Psychiatry, Sant'Andrea Hospital, "Sapienza" University of Rome, Italy
(2)
McLean Hospital – Harvard Medical School, USA
(3)
Department of Psychiatry, Columbia University, New York, USA
(4)
New York State Psychiatric Institute, Columbia University, New York, USA
(5)
Department of Psychology, University of Illinois College of Medicine, Chicago, USA
(6)
Psychiatric Clinic, University Hospital Eppendorf, Hamburg, Germany
(7)
Center for the Study of Suicide, Blackwood, USA
(8)
Department of Psychiatry Vanderbilt University School of Medicine, USA
(9)
Deptartment of Psychiatry (Burghölzli Hospital), University of Zurich, Switzerland
(10)
Department of Psychiatry, Division of Geriatric Psychiatry, University of California, San Diego, USA
(11)
National Centre for Register-Based Research, Aarhus University, Aarhus, Denmark
(12)
Unit for Psychiatric Research, Aalborg Psychiatric Hospital, Aarhus University Hospital, Aalborg, Denmark
(13)
Department of Psychiatry Copenhagen University, Bispebjerg Hospital, Copenhagen, Denmark
(14)
Department of Psychiatry Kuopio University Hospital, Kuopio, Finland
Copyright
© Pompili et al; licensee BioMed Central Ltd. 2007
This article is published under license to BioMed Central Ltd. This is an Open Access article distributed under the terms of the Creative Commons Attribution License (http://creativecommons.org/licenses/by/2.0), which permits unrestricted use, distribution, and reproduction in any medium, provided the original work is properly cited.