Current pharmacologic options for patients with Alzheimer's disease
Annals of General Hospital Psychiatry
2003
2:1
Received: 9 September 2002
Accepted: 29 January 2003
Published: 29 January 2003
Abstract
Background
The aim of the current study was to provide general practitioners with an overview of the available treatment options for Alzheimer's disease (AD). Since general practitioners provide the majority of medical care for AD patients, they should be well versed in treatment options that can improve function and slow the progression of symptoms.
Design
Biomedical literature related to acetylcholinesterase inhibitors (AChEIs) was surveyed. In the United States, there are four AChEIs approved for the treatment of AD: tacrine, donepezil, rivastigmine, and galantamine. There are other agents under investigation, but at present, AChEIs are the only approved drug category for AD treatment.
Measurements and Main Results
AD is becoming a major public health concern and underdiagnosis is a significant problem (with only about half of AD patients being diagnosed and only half of those diagnosed actually being treated). Clinical trials have demonstrated that patients with AD who do not receive active treatment decline at more rapid rates than those who do.
Conclusions
Given that untreated AD patients show decline in three major areas (cognition, behavior, and functional ability), if drug treatment is able to improve performance, maintain baseline performance over the long term, or allow for a slower rate of decline in performance, each of these outcomes should be viewed a treatment success.
Keywords
Alzheimer's diseaseacetylcholinesterase inhibitordementiacognition
Background
Alzheimer's disease (AD) is a progressive neurodegenerative disorder that is clinically characterized by loss of memory and progressive deficits in other cognitive domains. Alterations in behavior, such as apathy, agitation, and psychosis, are also cardinal clinical features. Together, the cognitive and behavioral alterations that define the clinical syndrome of AD underlie the progressive functional decline that all patients show in performing activities of daily living (ADL). Aside from its direct effects on patients, AD leads to a decreased quality of life and an increased burden on caregivers.
AD is the most common cause of dementia in people 65 years and older: it affects 10% of people over the age of 65 and 50% of people over the age of 85 [1]. The number of patients with AD is expected to rise with increasing life expectancy and growth in the aging population. AD will potentially be the most overwhelming public health problem of this century. In the United States alone, the projected prevalence is over 4 million and is expected to reach 14 million in the next 50 years [1]. AD is one of several causes of dementia, accounting for approximately two thirds or more of all dementia cases [2]. Vascular dementia (VaD) accounts for approximately 15% of all dementias [2], while some patients may also display dementia of mixed etiology (AD/VaD). A collaborative study of the incidence of dementia and major subtypes was conducted in Europe. The findings confirmed that AD is the most prevalent dementing disorder across all ages and with a higher incidence in women over 80 years of age [3]. Since AD is the most common and best understood cause of dementia, it will be the focus of this review. A PubMed search was conducted with an emphasis on literature from the past 10 years.
Underdiagnosis and undertreatment of AD are significant problems in the present clinical approach to the disorder. Approximately 50% of people with AD are actually diagnosed, and only 50% of those diagnosed are actually being treated [1]; 12% of patients diagnosed with AD are being prescribed acetylcholinesterase inhibitors (AChEIs), the established mainstay of treatment [4]. The remainder of those treated are generally receiving psychotropic medications and other putative anti-dementia agents such as gingko biloba. Therapy for AD is initiated by general practitioners in more than 40% of cases, as they are the clinicians providing the majority of medical care for these patients [5]. It has been increasingly recognized that early diagnosis and comprehensive management of cognitive and behavioral symptoms are crucial in optimizing disease management. Worthy and attainable goals of treatment include improvement in cognition and behavior or prolonged stabilization of function for as long as 1 year [6]. Additionally, thoughtful care of the patient includes careful attention to the needs of the caregiver, who may be especially burdened by disease progression.
The disease process
AD progresses through several clinical stages (Figure
1
). Loss of recent memory, or forgetfulness, is the most common presenting symptom. This is often accompanied, or shortly followed by, personality and behavioral changes, including disinterest in hobbies and social activities. Complex tasks that involve executive functioning – such as the management of finances, using household appliances, and performing household chores – are often impaired early in the disease, whereas basic ADL – such as grooming and hygiene, toileting, and feeding – are not affected until the dementia is more advanced. Impaired patients will eventually develop decline in other cognitive realms. These include navigational ability (visual-spatial function), recognition of common items (gnosis), and motor programming (praxis) [
7
].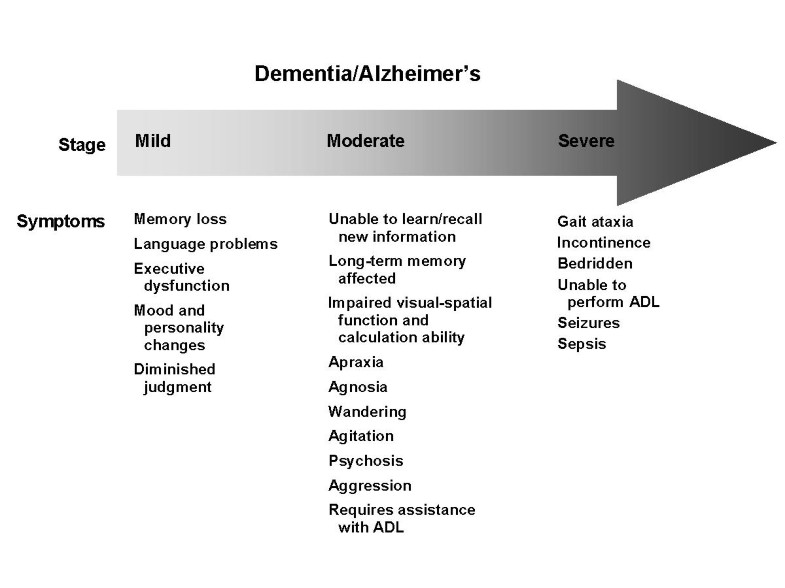 Multiple risk factors have been proposed for the development of AD. It is generally agreed that advancing age and family history of dementia are the major risk factors in typical, late-onset AD [2]. Genetic factors can also be a contributing risk in early-onset disease. While the role of apolipoprotein E (APOE) in AD pathology is unknown, there is a correlation between the risk of AD and APOE genotype [8]. The APOE-4 allele has been most closely associated with increasing the risk of AD by three- to fourfold.
AD is a complex neurologic disease that is diagnosed by clinical presentation; however, there are three consistent neuropathologic hallmarks of the disorder that are generally noted on postmortem brain examination: amyloid-rich senile plaques [9], neurofibrillary tangles [10], and neuronal degeneration. The primary cause of AD is still speculative, but AD pathology includes evidence of neuronal cell dysfunction either caused by or resulting in neurofibrillary tangles and/or β-amyloid plaques. In recent years, significant research attention has also been devoted to the roles of inflammation, free radical formation, and oxidative cell damage in the pathogenesis of AD. The progression of AD is related to the disease's effect on neuronal circuitry. Short-term memory loss, usually the first symptom of the disease, reflects a disruption of signaling between the hippocampus and entorhinal cortex, adjacent regions of the brain that are thought to be required for early establishment of memory [11]. As AD advances in severity, neuronal signaling in the neocortical areas required for cognitive function and long-term memory storage are affected [11]. AD exhibits a large impact on neurotransmission: the most prominent neurotransmitter changes are cholinergic. The effects of AD on the cholinergic system include reduced activity of choline acetyltransferase (ie, reduced synthesis of acetylcholine [ACh]) [12], reduced number of cholinergic neurons in late AD (particularly in the basal forebrain) [13], and selective loss of nicotinic receptor subtypes in the hippocampus and cortex [12].
Discussion
AD is a progressive disease that affects the patient's cognition, behavior, and function. Losses associated with the disease have a profound impact on the patient and caregiver. Coping with this spectrum of change places an enormous burden on family caregivers of patients with AD. Diagnosis of the disease is the first important step, since approximately 50% of patients with AD are not diagnosed, and only 50% of those diagnosed are being treated with some type of therapy [1]. Although there is no cure for AD, it is a treatable disease. While treatment success was traditionally defined as improvement from baseline function, given that untreated patients with AD show declines in cognition, ability to perform ADL, and behavior, if drug treatment is able to improve function, maintain baseline function over the long term, or allow for a slower rate of functional decline, each of these outcomes should be viewed as a treatment success. The cognitive and functional benefits achieved with treatment lead to improvement in caregiver burden, a parameter that is very important but often overlooked.
While there is much ongoing research in the area of AD treatment, there are currently four AChEIs available in the United States: tacrine, donepezil, rivastigmine, and galantamine. Although they are all members of the same drug class, they have differences in their actions, dosing schedules, and side-effect profiles. Results obtained with the use of AChEIs clearly fit the updated definition of effective treatment by improving or maintaining all domains of AD (cognition, ADL, and behavior) in the short term, and by slowing the decline in these functions through 12 months of use or longer. It is important that physicians fully understand and clearly communicate to both the patient and caregiver the expected outcomes of treatment on the disease process. Although prescribing atypical antipsychotics and other agents for the management of behavioral symptoms associated with AD is not an FDA-approved practice, this type of therapy can significantly decrease the severity of these symptoms and may ease caregiver burden and postpone institutionalization [61].
Conclusion
Early diagnosis and comprehensive treatment are crucial in optimizing disease management. The most successful treatment outcomes result from a firmly established partnership that encourages active communication between the patient's caregiver and physician. AChEIs represent the mainstay of the pharmacologic therapy of AD, yet the effects are largely symptomatic and may not prevent disease progression. The beneficial effects that we do encounter though modest are meaningful to many patients and their families. We anticipate a future in which the practicing clinician will prescribe agents that will not only slow the clinical progression of the disease, but also restore cognitive and behavioral functioning of the patient to premorbid levels, or best, prevent the development of AD in susceptible persons. Potential targets for these evolving therapeutics will likely include inflammation, neuroprotection, amyloid deposition, neurofibrillary tangle formation, and other important aspects of the pathogenesis of AD.
Authors' Affiliations
(1)
University of Medicine and Dentistry of New Jersey, New Jersey Medical School, Newark, USA
Copyright
© Reichman; licensee BioMed Central Ltd. 2003
This article is published under license to BioMed Central Ltd. This is an Open Access article: verbatim copying and redistribution of this article are permitted in all media for any purpose, provided this notice is preserved along with the article's original URL.